| | |
| --- | --- |
| Posted by Eng Kiat on March 8, 2011 at 9:53 PM | |
Scientific Evidence on the Therapeutic Efficacy of Iyengar Yoga: A Compilation of Research Papers, 2008 (PDF)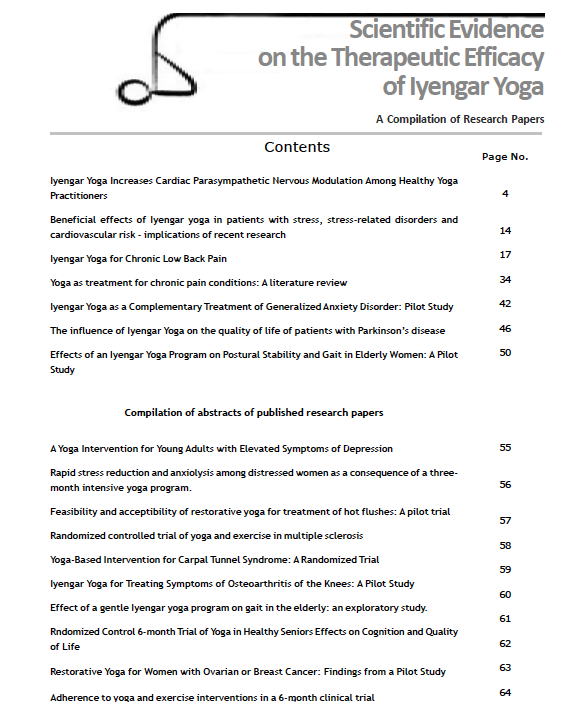 One of the greatest proponents of the ancient science of yoga, in this era, is Yogacharya BKS Iyengar, who has been teaching yoga for the past 74 years. An author of 20 books, each of which, has been translated in various languages. His Light on Yoga, first published in 1966 has been translated into 19 languages. His immense contribution to yoga has been highlighted by the fact that the Oxford English dictionary defines 'Iyengar' as a form of yoga. He has been recognized by TIME magazine amongst the 100 most influential persons of the 20th century. Today, there are certified 'Iyengar Yoga' teachers in over 40 countries.
His innovative use of props has made the quote of 11th century yogic text, Hatha Yoga Pradipika come alive i.e the young, the old, diseased the weak and the disabled can all do yoga and attain its benefits. These props include the use of blankets, belts, ropes, chairs, bolsters and wooden formations which make it possible for even the most stiff, sick and disabled to attain perfection in yogic asana-s with ease and gain benefits including good health. Iyengar Yoga is internationally renowned for its therapeutic value in alleviating symptoms of various diseases.
Despite several anecdotal and subjective evidences,modern day health care demands 'evidence-based' medicine and for any form of therapy (be it alternative or complementary) to be recommended as therapy, it is esssential that it should go through the very stringent assessment systems of modern science.

This compilation of research papers aims to present findings of some of the research work , on the therapeutic efficacy of Iyengar yoga, done at various international unviersities.

[Source: Light on Yoga Research Trust]