Disclaimer: Information shared here is just for educational purpose. 
'Student' going through personalised yoga-asana program for her Scoliosis condition.
Her name is Ms E and her first visit to the studio was on 2015 Jan 8th. 
During initial conversations, the mother had shared that she has become 'desperate' after spending almost 2 (years) looking for a possible 'rememdial solution' to Ms E's spine condition. 
In fact, Ms E had been on a treatment program for the last 9 months leading to Dec 2014. Unfortunately, the condition for Ms E has worsen from 33 degrees to 53 degrees.
In addition she was 'under pressure' from friends, families and associates to send Ms E for operation (from our conversations). 
On 2015 Jan 8th, Ms E started on her personalised program at this studio and has been on it for slightly a month now. (Coming twice a week for the first 3 weeks)
I thought I would like to share her progress here. In case there are mothers (or parents) out there who are currently 'desperately' looking for a possible improvement program for their children.
2nd Collage - from 2015-Jan-7 to 2015-Feb-15 
Top Left Hand Corner : before starting (2015 Jan 7)
Bottom Left Corner : after 1 session
Top Right Corner : latest (2015 Feb 15)
1st Collage - from 2015-Jan-7 to 2015-Feb-01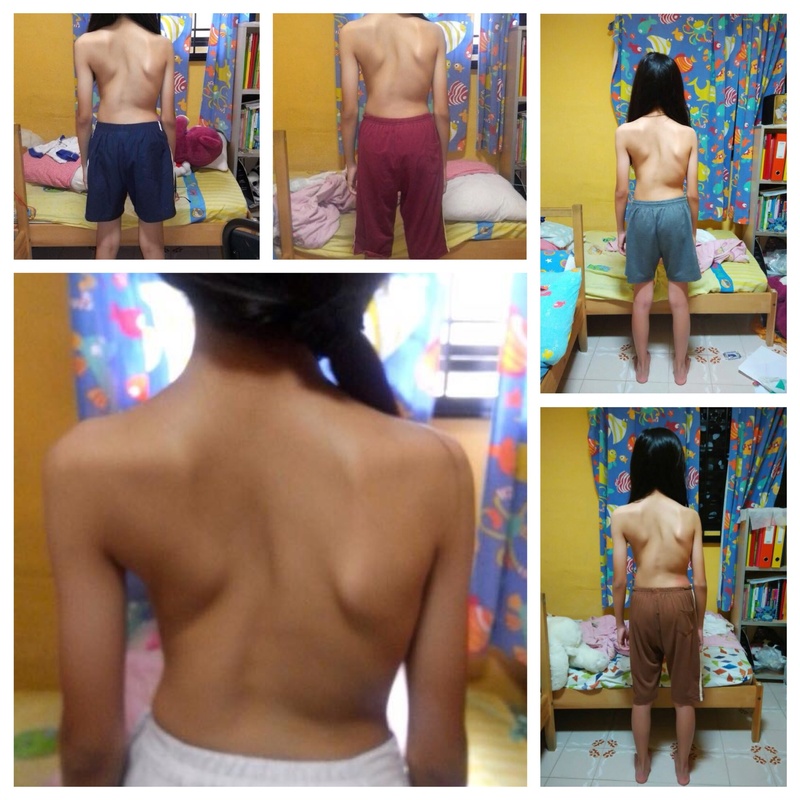 Bottom Left: Photo taken the day (2015 Jan 7th) before her 1st session @ Balancing Rocks studio.
(Hope you can spot the changes happening in that first few weeks)