| | |
| --- | --- |
| Posted by Eng Kiat on March 13, 2013 at 12:30 PM | |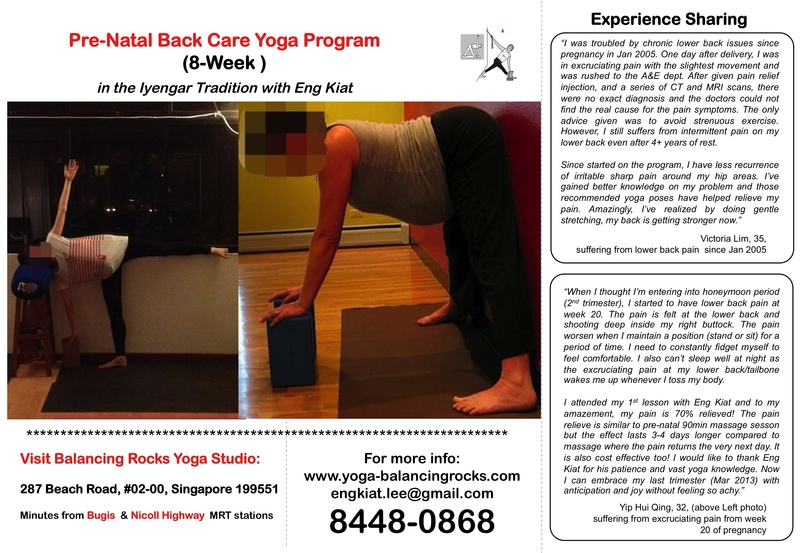 Sharing a new program (Pre-Natal Back Care) starting @ Balancing Rocks Yoga Studio-Iyengar Tradition - inspired by those pregnant (pregnant-to-be) ladies that have been coming for classes even though I have not allocated the time-slots for them prior to this.
Pre-Natal Back Care Yoga Program @ Balancing Rocks Yoga Studio-Iyengar Tradition
(The flyer for the long awaited program is ready now!)
Back Pain or discomfort during pregnancy is very common. It is estimated that between 50% and 70% of women experience some form of back pain during pregnancy. (source: American Pregnancy Association)
Back Pain during pregnancy is related to a number of factors. Women with pre-existing lower back problems are most at risk for back pain. Other factors include: additional weight, posture, growing uterus, and hormonal changes. However, there are things you can do to reduce the severity or frequency.
[Who is this Program for?]
This program is designed for students who are experiencing back pain during or before pregnancy (even for those post-delivery). It is also for those with a weak back who are preparing for pregnancy.
[Benefits and Aim of the Program]
The program uses asana to:
- Reduce Back issues during pregnancy;
- Improve on tiredness and fatigue;
- Help promote mental and physical well-being, strengthen and tone muscles, and, if regularly practiced, prepare mothers-to-be for a natural and easier birth.
For more info,
call 8448-0868.